1) Rang De Basanti: Directed by Rakeysh Omprakash Mehra and released in 2006, Rang De Basanti redefined & presented the patriotism in modern context and strongly connected with youth. The movie stars Aamir Khan, Soha Ali Khan, Madhavan, Kunal Kapoor, Siddharth, Sharman Joshi, Atul Kulkarni and Alice Patten.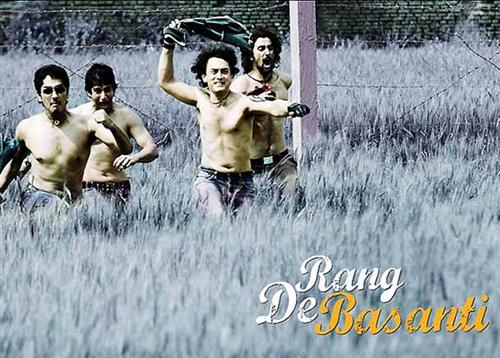 2) Mother India: It is 1957 Hindi film epic, written and directed by Mehboob Khan and starring Nargis, Sunil Dutt, Rajendra Kumar and Raaj Kumar. It is the story of a poverty-stricken village woman named Radha who, amid many other trials and tribulations, struggles to raise her sons and survive against an evil money-lender. Despite her hardship, she sets a goddess-like moral example of what it means to be an Indian woman, yet kills her own criminal son at the end for the greater moral good. She represents India as a nation in the aftermath of independence.
3) Border: The film was based on the Indo-Pakistani war of 1971 and released in 1997. It depicts a small battalion of Indian soldiers which won the battle against a 2000-(armed) soldier Pakistani strike force near the border region of Longewala. The movie stars Sunny Deol, Jackie Shroff, Sunil Shetty, Akshay Khanna, Pooja Bhatt, Sharbani Mukherjee and Tabu. And directed by J.P Dutta.
4) Lagaan: The Oscar nominated movie Lagaan , released in 2001, depicts the time of the India during Colonial British raj. It revolves around the peasants from a barren village who are oppressed by high taxes imposed by their rulers. They were to play cricket with the British. If they won, for three years the tax would not be levied. The villagers united to learn the new game and defeated the British and so got their request fulfilled.
5) Kranti: Kranti is a 1981 Indian Hindi film. Produced and directed by Manoj Kumar, starring Manoj Kumar ,Dilip Kumar, Shashi Kapoor, Hema Malini, Shatrughan Sinha, Parveen Babi, Sarika, Prem Chopra, Madan Puri and Paintlal. It is the stoory of fight for Independence from British rule in the year 1925-1975.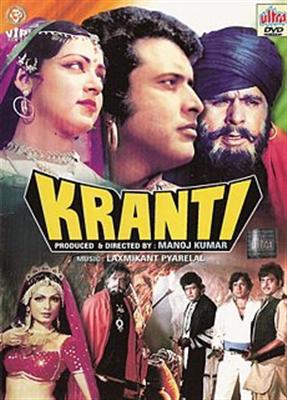 6) Purab Aur Paschim: Released in 1970, produced & directed by Manoj Kumar. The movie was Manoj Kumar's 3rd film on Patriotism. The 2007 film Namastey London is based on this film.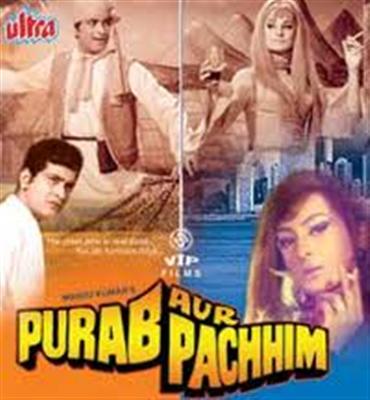 7) Haqeeqat: It is a 1964 Hindi war-film directed by Chetan Anand which was supported by the Government of India. The movie was based on 1962 Sino-Indian War. It won the National Film Award for Second Best Feature Film in 1965. It stars Dharmendra, Balraj Sahni, Rajender Kumar, Priya Rajvansh , Sanjay Khan and Vijay Anand.
8 ) Lakshya: It is a 2004 Hindi film directed by Farhan Akhtar and stars Hrithik Roshan, Preity Zinta, Amitabh Bachchan, Om Puri and Boman Irani. Hrithik Roshan plays the role of Lieutenant (later Acting Captain) who leads his team to victory against Pakistan Troops. The fictional story of the movie was based on the historical events of the 1999 Kargil Conflict.
9) Chak De India: The movie was released in 2007 and stars Shahrukh Khan as the main lead. After losing to Pakistan, Kabir Khan (SRK) was hold responsible for the loss and thrown out of the team. AFter 7 years, he becomes the coach of Indian Women's Hockey Team and take them to World Cup Victory and brought pride to the country.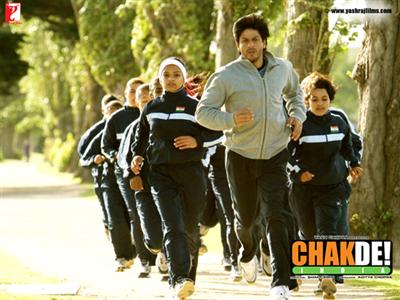 10) Legend of Bhagat singh: The movie was released in 2002 & directed by Rajkumar Santoshi. The movie stars Ajay Devgan, Sushant Singh and Ian Davies. The film bagged two National film awards , and three Filmfare awards. The movie portrayed Bhagat Singh's struggle for Indian Independence.
11) Sarfarosh: Released in 1999 and directed by John Matthew Matthan. The movie stars Aamir Khan, Sonali Bendre and Naseeruddin Shah. The movie deals with an Indian police officer's fight to stop cross-border terrorism.
Jai Hind !!